On the previous thread, I mentioned to Steel that I had recently acquired an Amazon Echo device, and was having great fun playing with Alexa. He replied with this apropos cartoon: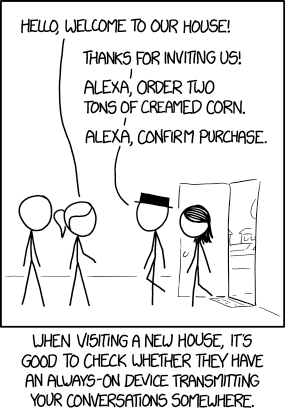 LOL… Sure, before ordering it, I experienced the old kneejerk paranoia about my privacy. Yet, before I could ask Alexa to spell antidisestablishmentarianism (she did!) or play some Beach Boys, the only time I ever spoke here in my hermitage was to my little dog, or the occasional rare telephone call. I have always assumed that my telephone conversations are being recorded somewhere anyway. Even if I never turned the microphone off, or unplugged her, and Alexa was actually recording every sound here 24/7, those tasked to search through the recordings for my transgressions would be bored to death, unless they shared my nostalgia for the popular music of my youth, and enjoyed the sound of rain, a babbling brook, or ocean waves playing while I am sleeping. 😊
Until one experiences it for themselves, it can be hard to imagine the sense of relief derived from escaping the stultifying paranoia of Big Brother, which is just another weapon in the oligarchs' tool chest, for maintaining their dualistic society. The ubiquitous 'us against them' mindset is designed to keep the sheeple at each other's throats, rather than their own. All that is required to reacquire personal freedom, is to opt out of their cruel game, as an individual refusing to choose sides. If one concludes he has no need of a ruler, or even a political leader, then it becomes ludicrous to consider sanctioning their authority, by participating in the obnoxious process of choosing one.
Several months ago, it occurred to me that, now in my dotage, I am no longer a threat to the powers that be. If they have nothing to fear from me, I see little point in fearing them. Frankly, at my age, were they to haul me off to prison as a subversive, it would represent a marked improvement in my austere lifestyle. Air conditioning; pest control; three hot meals a day; regular hot showers; laundry service; free medical attention; gym; library; cable TV; internet; armed guards 24/7 to protect an old man from terrorists, gangs, flash mobs, muggers, and lonely widows. No wonder so many codgers who are released, soon deliberately re-offend to get back inside, and resume the carefree lifestyle to which they had become accustomed. It sure sounds more appealing than a retirement home, populated predominantly with addled dementia patients, no?  😉
Since this epiphany, I switched back to using Google as my search engine, and have found I much prefer Google Chrome to Firefox for several reasons, so it is now my default browser. I even stay logged into it and YouTube, with my real identity. I notice that the ad blocking extensions do such a good job, that I have not experienced any of the targeted advertising that is supposed to be so off-putting about allowing Google to collect data on my surfing habits. I do not even experience advertising on YouTube, and appreciate the way it tracks my tastes to offer new clips that might interest me. So, with nothing to hide, what exactly have I lost by relinquishing my privacy? â—"Daveâ–º
38 Responses to "Privacy & Paranoia"